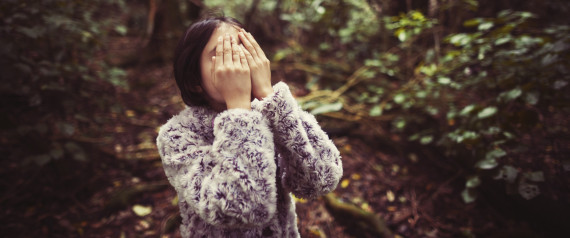 Chances are we've all experienced a bout of shyness in our lives, whether it's when we've walked into a party full of strangers or tried to shine in a job interview. And if you identify as a shy person, you're definitely not the only one -- approximately
40 percent of American adults feel the same way
.
And yes, shyness has been associated with negative outcomes -- characteristics like difficulty maintaining eye contact, feelings of humiliation and sometimes even detachment are all known to be part of a shy person's M.O. It's these traits that tend to affect some shy individuals' ability to connect, says C. Barr Taylor, a professor of psychology at Stanford University. "Being shy can keep you from a lot of things in life that are good for you," he tells The Huffington Post. "Shy people have a general reluctance [to overwhelming social situations], so there is a natural urge to look away from people. For example, when you meet someone you may shake their hand and look away."
But while shyness can often be seen as a bad thing, there are ways to use the personality trait to your advantage, Taylor says. "We tend to 'medicalize' everything," Taylor explains. "Shyness shouldn't be seen as a medical problem -- it's a pattern where you feel uncomfortable, but it's very common."
In order to harness the power of shyness -- and start looking at some of its aspects in a positive light -- there are certain behaviors we can all tap into. Below, find six common shy habits and how you can learn to make them benefit you.
They're thinkers.
Shy people tend to reflect inwardly -- a lot. (And sometimes that mind just won't shut off.) But according to Taylor, all that thinking may not always be a bad thing. "Shyness shouldn't be thought of as something you can't deal with or get over," he explains. "I think it's good for people not to see it as an impairment but rather as a way you can think actively as you go into a situation."
With the progress of technology, the art of
deep thinking
may have been lost and replaced by quick task-switching. But there are benefits to getting swallowed by thought. For starters, our creative process -- something that is deeply valued in today's workforce --
thrives under a wandering mind
. People who are better thinkers also have a greater ability to make more
well-thought out decisions
.
However, Taylor notes, there's a key difference between deep reflection andoverthinking (and working yourself up) -- particularly when it comes to thoughts on a specific situation. For shy people who feel worried about facing a particular challenge or event, he advises slowly approaching the fearful situation if you start to feel anxious. By facing what you're feeling insecure about, Taylor says, you'll feel less apprehensive. "Our brains are amazing -- they can become well adapted," he says. "If you put yourself in a fearful situation, you'll get a sense that you're going to do it. By treating [situations where you're normally shy] as a trial and then a success, you can overcome it."
They're observant.
Shy people often pick up on parts of their conversation or surroundings that others may not -- and then relate it back to the social bonding, Taylor says. "Just because you're shy doesn't mean you're not attuned to social situations," Taylor says. "It can actually become a source of strength as you are the observer in the room."
More reserved individuals also have a superior ability to read people's facial expressions. In a study out of
Southern Illinois University at Carbondale
, researchers found an association between college-age adults who were shy and the ability to better identify expressions of sadness and fear compared with those who weren't shy. "We tend to give shy people a bad rap," researcher Laura Graves O'Haver
said of the study in LiveScience
. "It might be nice to focus on those strengths."
They're listeners.
While most people associate being shy with being removed from a conversation, it's not always the case. In fact, shy individuals could end up being the best conversationalists due to the fact that they're so in-tune with what each person in the group is saying. In an in-depth
essay on the cost of shyness
, psychologists Bernardo Carducci and Philip Zimbardo explain that while shyness can hold someone back, a shy person's innate drive to absorb a conversation can be his or her greatest strength:
If they can get over their self-induced pressures for witty repartee, shy people can be great at conversation because they may actually be paying attention. (The hard part comes when a response is expected.) According to Harvard's Doreen Arcus, shy kids are apt to be especially empathic. Parents of the children she studies tell her that "even in infancy, the shy child seemed to be sensitive, empathic, and a good listener. They seem to make really good friends and their friends are very loyal to them and value them quite a bit." Even among children, friendships need someone who will talk and someone who will listen.
Read more:
6 Things Shy People Can Teach Us About Success