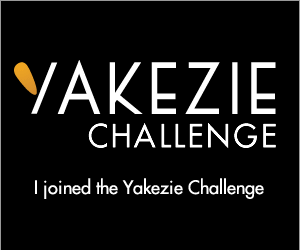 After reading
Creating Powerful Friends: Samurai's Alexa Ranking Challenge
, I have decided to take on the challenge. My
Alexa Rank
is now 352703 and by the end of six months, that is , on March 1,2012 my Traffic Rank should be 200000 or below. It is a fantastic challenge and I will go all out for it.
There are 7 powerful reasons for you to join the challenge:
1.
Associate with positive people
:
Successful
bloggers are positive people. You stay positive because they are. You get to learn their secrets of success and be one of them eventually.
2.
Get to know other

blogger

relating to your niche
: Yakazie is a large community where it is one for all and all for one. It is great to be part of a group sharing similar interests for mutual benefits.
3.
Compete with yourself
: How do you know you are improving? Taking the challenge is a convincing way to show that you are really serious about making progress in
blogging
. As your Traffic Rank goes up so is your popularity in the blogosphere.
4.
Unleash your potential
: You never know what you can do until you do it. Taking the challenge is a great way to release your potentiality and reach for the sky.
5.
Life

, after all, is a challenge
: You cannot go forward by staying in your comfort zone. In fact, life is like riding a bicycle, when you stop paddling, you will fall. Taking challenges is to seek progress and go beyond what you are capable of. Be ahead and stay ahead by taking challenges in life.
6.
Positive mental attitude
: It is an excellent way to develop a positive mindset by taking up this bold challenge. If you think you can, you will. Get excited, be motivated, do your best and enjoy the process.
7.
What do you want others to remember you by
: Taking the challenge is a marvelous way to tell the world that you want to be one of the top bloggers on the Net. To do that, it is another challenge to build a trusted and authoritative brand for yourself.
Are you taking the challenge?